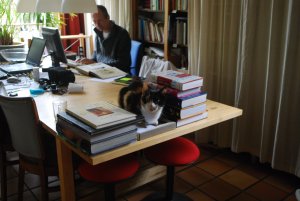 De Blauwe Aarde
Oosterwijtwerd
De Blauwe Aarde a un total de 1433 livre(s).
De boeken worden met grote zorg geselecteerd ingepakt en verstuurd.

Vriendelijke groet Jann Ruiters
.

VERZENDING BOEKEN:

Verzendkosten binnen Nederland: € 3,95 (verzending met Post.nl of DHL).

Verzendkosten naar België: € 7,70 (verzending met DPD Parcel).


Shipping costs to other European countries with DHL on request.

.

WE DO NOT SHIP BOOKS OUTSIDE THE EUROPEAN COMMUNITY

Retourneren:
14 dagen bedenktijd. Retourkosten zijn voor eigen rekening van de Koper.
Om gebruik te maken van uw herroepingsrecht kunt u contact met ons opnemen via info@deblauweaarde.nl. Binnen 14 dagen na aanmelding van uw retour, mits de retourzending in goede staat is terug ontvangen (of na overlegging van een geldig bewijs van verzending), vervalt de betalingsverplichting of wordt het reeds betaalde bedrag teruggestort op Uw rekening.
Titre
Prix
A collection of ancient glass 500 BC - 500 AD Auteur: Arts, P.L.W.

€ 7,00

A Comparison of the Chronic Miasms (Osiram Oseydi - Osira , Syphilis , Sycosis) Auteur: Phyllis Speight

€ 27,50

A day in the life de Beatles en hun muziek Auteur: Hertsgaard, Mark

€ 7,50

A Guide to Navajo Weavings Auteur: Mcmanis & Jeffries

€ 12,50

A Harp Full of Stars The Journey of a Music Healer Auteur: Andrews, Joel

€ 24,50

A key to Nigerian grasses Samaru research bulletin no 1 Auteur: CLAYTON, W.D.

€ 19,50

A KEYNOTE REPERTORY of MATERIA MEDICA on the Basis of Allen s Keynotes and Nash s Leaders in Therapeutics Auteur: Sirker, Captain K. K.

€ 7,00

A. R. Orage's Commentaries on G. I. Gurdjieff's All and Everything: Beelzebub's Tales to His Grandson Auteur: A. R. Orage, Editor-C. S. Nott

€ 52,50

A Souvenir Album of Fabergé from the Royal Collection Auteur: Queens Gallery

€ 5,00

AAI Awards 1997 - New Irish Architecture 12 Auteur: john o'regan/nicola dearey (edited)

€ 27,50

AAI Awards 1999 - New Irish Architecture 14 Auteur: john o'regan/nicola dearey (edited)

€ 27,50

Aardse wijsheid Auteur: Baltasar Gracian

€ 4,50

ABC van de literaire uitgeverij Auteur: Nijsen, Joost

€ 5,00

ABC van spiritualiteit Auteur: Willem Jann van de Wetering

€ 4,50

Aboriginal art in Australia Auteur: EDWARDS, ROBERT

€ 12,50

Aboriginal Stories Auteur: Reed, A. W.

€ 10,00

About Savitri with some (32) paintings Huta Auteur: Huta

€ 24,50

Achtenzeventig graden der wijsheid Auteur: Pollack

€ 7,50

Adam Kraft Auteur: SCHWEMMER, WILHELM

€ 17,50

Ademhalings technieken Auteur: Swami Ambikananda Saraswati

€ 5,00

Afghanistan Lifting the Veil Auteur: Reuters

€ 15,00

African Children Art of Dreams - Texts of Giovanna Soldini (text in engels, frans, italiaans) Auteur: Merici, Franco, texts of Giovanna Soldini

€ 29,50

Africhten van het jonge rijpaard Auteur: Werner Storl

€ 5,00

Afwijkende mondgewoonten / inleiding, onderzoek en behandeling Auteur: Jansonius-Schultheiss, K., Coppenolle, L. van, Beyaert, E.

€ 24,50

1949-1978-Age of Revolution-Peoples Pictorial-Chinese Life (Chinese/English Edition) Auteur: Xu Bu

€ 39,50

Ai Weiwei Auteur: Smith, Karen, Zijpp, Sue-An

€ 10,00

Ajnayoga de weg naar éénzijn Auteur: Ceelie Nico

€ 5,00

Al de dagen van ons leven nieuwe uitgave Auteur: Averbode red.

€ 10,00

Al het leven is goddelyk Auteur: Machaelle Small Wright

€ 5,00

Alaia Auteur: Baudot, Francois

€ 9,00

Alba ( la Chouette effraie - Barn Owl - description in French and English language ) Auteur: Baudvin, Hugues / Perrot, Philippe (photography)

€ 34,50

Albert in 't Veld Auteur: Vrienden van Diana Vandenberg

€ 7,00

Alchemy: The Art of Knowing Auteur: ALCHEMY

€ 5,00

Alle klokken luiden over carillons en klokkenspelen Auteur: Heleen van der Weel

€ 10,00

Allerhande dingen over de natuur Deel 1 + Deel 2 = Deel 3 Auteur: Klazien Uit Zalk

€ 10,00

Alles over parfum Auteur: Pavia, F.

€ 7,00

Alles over stevia. Het zoete geheim van Moeder Natuur Auteur: Fred de Vries & Elke van der Snoek

€ 4,00

Alles wat je altijd al wilde weten over het leven Auteur: Jan Alexander

€ 5,00

Als Christus verschijnt / christusverschijningen in deze tijd Auteur: Zwaag, Berthilde van der

€ 5,00

Als in de tijd bevroren : gedichten van drie Asser stadsdichters in de jaren 2006-2012 - Dit is Assen Auteur: Mischa van Huijstee, Egbert Hovenkamp II, Erik Harteveld, Hein Overbeek;

€ 10,50

Als jouw leven een cirkel is, waar sta je dan? / Kies je richting en begin opnieuw Auteur: Oord, Inez van

€ 7,00

Alte Judenfriedhöfe Böhmens und Mährens Auteur: EHL, PETR PARIK, ARNO FIEDLER, JIRI

€ 10,00

American Cattle Doctor veterinary practitioner Auteur: G.H. Dadd (M.D.)

€ 14,50

Amsterdamse School, Textiel 1915-1930 Auteur: Ingeborg de Roode & Marjan Groot

€ 24,50

An Illustrated Treasury of Orchids Auteur: Frank J. Anderson

€ 10,00

Ana Mendieta (1948-1985) - Body Tracks Auteur: with texts by Patrick Dondelinger and Laura Roulet

€ 132,50

Anatomie van de macht / wie besturen Nederland en hoe oefenen ze invloed uit? Auteur: Vrijsen, Eric

€ 5,00

Ancient Music in the Pines Auteur: Veena, Ma Prem

€ 12,50

Ancient peoples and places The Picts Auteur: Henderson, Isabel

€ 27,50

Andrzej Pawtowski 1925-1986 Auteur: GALLERY STARA

€ 7,50