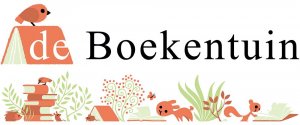 Boekentuin Alkmaar
Alkmaar
Boekentuin Alkmaar a un total de 6170 livre(s).
---------------------------------------------------------------------------------------------------------------------------
Wij zijn een stichting zonder winstoogmerk. Een derde van de vrijwilligers bij De Boekentuin heeft een afstand tot de arbeidsmarkt of met een beperking. Naast vrijwilligers met een uitkering werkt de stichting ook samen met niet-commerciële re-integratiebedrijven, Vluchtelingenwerk en maatschappelijk werk uit de regio Alkmaar. Onze stichting is ontstaan vanuit een particulier initiatief en werkt zonder (gemeentelijke) subsidies.

Voor verzending binnen Nederland hanteren wij een verzendprijs voor brievenbuspost van €4,90 en pakketpost van € 7,25. Verzending geschiedt via PostNL. Op alle verzendingen zit een Track en Trace code.
Verzendkosten België € 7,95 via DPD.

Overige landen op aanvraag.


Op alle verzendingen zit een Track en Trace code.

Bestellingen worden op basis van binnenkomst afgehandeld, dus het kan een enkele keer voorkomen dat een boek reeds verkocht is, maar over het algemeen zijn wij zeer up-to-date.


We do send worldwide.
We accept payment by Paypal. Our EU customers may pay directly to our bank account. We do requiere pre-payment. The details will be e-mailed to you. All prices are in Euro's and do not include shipping costs. Books are subject to prior sale.
All books are in good / very good condition unless otherwise stated.
The purchase may be returned (after contacting us) if the book is not in the condition described.
Titre
Prix
1984 Auteur: Orwell, George

€ 17,90

1984 Auteur: Orwell, George

€ 11,90

1914-? 42 Teekeningen van Arthur Stadler ( 5 foto's) Auteur: Nansen, Frithjof

€ 74,90

1876 - 1976 100 jaar Chr. Nationaal schoolonderwijs in Broek op Langedijk Auteur: Diverse

€ 9,90

1928 - 1978. 50 Jahre Arcus Elektrotechnik. Alois Schiffmann GMBH (4 foto's) Auteur: Kunstverlag Josef Bühn (Hrsg.)

€ 18,90

Букварь для вспомогательной школы, vertaling: Hulpschoolprimer. Russisch schoolboek ABC (3 foto's) Auteur: Самсонова

€ 24,90

1905-1995 90 jaar 'De Vereeniging' van kaaskoppen tot melkflessen (2 foto's) Auteur: Hoogland, Martien

€ 9,90

1918 - Neue Blatter für Kunst und Dichtung - kraus reprint 1970 (8 foto's) Auteur: diversen

€ 124,90

4 2 Stenberg 2 4 La période laboratoire (1919-1921) du constructivisme russe. The laboratory period (1919-1921) of russian constructivism (4 foto's) Auteur: Diversen

€ 26,90

A bad brides tale Auteur: Williams, Polly

€ 9,90

A Bakers Dozen. A Sampler of Early American Cookie Cut-Outs with Recipes (5 foto's) Auteur: Riecken, Susan

€ 14,90

A Bilateral Bicentennial. A History of Dutch-American Relations 1782-1982 Auteur: Schulte Nordholt, J.W. en Swierenga, Robert P.

€ 9,90

A Book or Bridges (10 foto's) Auteur: Brangwyn, Frank Sparrow W. Shaw

€ 99,00

A Box of Brownies (5 foto's) Auteur: Kraus, Robert and Pam

€ 22,00

A Cara O Cruz Auteur: Van Dam, M

€ 14,90

A Cast of Smiles Auteur: Brookfield, Amanda

€ 14,90

A Century of Belgian Painting. From Felicien Ros to Jan Fabre Auteur: Draguet, Michel (text)

€ 24,90

A+ Certification for Dummies (3 foto's) Auteur: Ron Glister

€ 19,90

A Christmas Carol in Prose. Being a ghost story of christmas (3 foto's) Auteur: Bruggencate K. ten

€ 9,90

A Christmas Medley Auteur: Burglon, Nora

€ 29,90

A clear blue sky Auteur: Whitnell, Barbara

€ 9,90

A Colourful Death. A Cornish Mystery. Auteur: Dunn, Carola

€ 13,90

A concise repertory of homeopathic medicines (Arranged Alphabetically) Auteur: Phatak, S.R.

€ 11,90

A day with the poet Tennyson Auteur: diversen

€ 17,90

A Dealer is Selling Off, verkoop van de collecties van Guus Maris [Haks Maris] Auteur: diverse

€ 10,00

A death in Calabria Auteur: Giuttari, Michele

€ 11,90

A dictionary of catch phrases, British and American, from the sixteenth Century to the Present Day (2 foto's) Auteur: Partridge, Eric

€ 69,90

a family affair Auteur: Haran, Maeve

€ 22,90

A family man Auteur: Brookfield, Amanda

€ 9,90

A ghost at the door Auteur: Dobbs, Michael

€ 12,90

A Girl's guide to kissing frogs Auteur: Clayton, Victoria

€ 9,90

A good man in Africa Auteur: Boyd, William

€ 11,90

A great trial in Chinese history. The trial of the Lin Biao and Jiang Qing Counter-Revolutionary Cliques, Nov. 1980 - Jan. 1981 (3 foto's) Auteur: diversen

€ 23,90

A great weekend in Amsterdam (4 foto's) Auteur: Vanderhaeghe, Katherine

€ 14,90

A guide to Damascus (3 foto's) Auteur: Grimes, E. Claire

€ 11,90

A guide to the collection of tiles (3 foto's) Auteur: Lane, Arthur

€ 9,90

A guide to the twelve tissue remedies of biochemistry Auteur: Anshutz, Dr. E.P.

€ 64,90

A guide to Water Gardening (3 foto's) Auteur: Rae-Smith, William

€ 13,90

A Handbook of Present-Day English. Volume I - English Sounds Auteur: Kruisinga, E.

€ 13,90

A Handbook of president day English part 2 Accidence and Syntax Auteur: Kruisinga E.

€ 9,90

A Handbook of Styles in English Antique Furniture (3 foto's) Auteur: Austen, Brian

€ 9,90

A Hero Of Our Time Auteur: Lermontov, Mikhail

€ 11,90

A history of english phonemes second edition Auteur: Prins, Dr. A.A.

€ 19,90

A history of graphic design (5 foto's) Auteur: Meggs, Philip B

€ 29,90

A history of modern criticism 1750-1950, Volume 1+2 (3 foto's) Auteur: Wellek Rene

€ 17,90

A history of modern criticism 1750-1950 volume four. The late nineteenth century Auteur: Wellek, René

€ 11,90

A history of postcards Auteur: Willoughby, Martin

€ 32,90

A history of the ancient world (3 foto's) Auteur: Starr, Chester G.

€ 12,90

A hopeless romantic Auteur: Evans, Harriet

€ 13,90

A Laurel reader. Mark Twain Auteur: Fuller, Edmund

€ 12,90