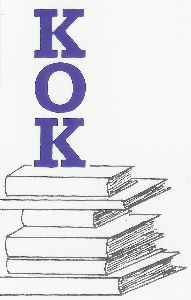 Antiquariaat Kok
Amsterdam
Antiquariaat Kok a un total de 61258 livre(s).
U mag het (binnen 1 week) OPHALEN bij ons in de winkel of we kunnen het VERSTUREN.

Binnen Nederland zijn er twee verzendopties, wij versturen alleen via PostNL:
**BRIEVENBUS ZENDING: Euro 4.40, dit is niet verzekerd noch traceerbaar en alleen mogelijk als het boek het toelaat.
**PAKKETPOST Euro 7.25, dit is verzekerd.

We do send WORLDWIDE, shipping costs depending on weight of the parcel and the shipping address.

We accept payment by VISA, Amex, Master Card or PAYPAL. Our EU customers may pay directly to one of our bank accounts, we do requier pre-payment, the details will be e-mailed to you. All prices are in EURO and do NOT include shipping costs. Books subject to prior sale.
All books are in good / very good condition unless otherwise stated.
The purchase may be returned (after contacting us) if the book is not in the condition described. Further terms according to the NVvA and ILAB.
Titre
Prix
1990. Auteur: Alte Uhren und moderne Zeitmesung.

€ 25,00

1991. Auteur: Alte Uhren und moderne Zeitmesung.

€ 17,50

1988. Auteur: Alte Uhren und moderne Zeitmesung.

€ 25,00

1987. Auteur: Alte Uhren und moderne Zeitmesung.

€ 25,00

16. Auteur: Nederlands Kunsthistorisch Jaarboek / Netherlands Yearbook for History of Art.

€ 20,00

18. Auteur: Nederlands Kunsthistorisch Jaarboek / Netherlands Yearbook for History of Art.

€ 20,00

1989. Auteur: Alte Uhren und moderne Zeitmesung.

€ 25,00

1901. Auteur: Geldersche volks-almanak voor het jaar

€ 20,00

1895. Auteur: Sport Universel Illustré. Revue hebdomadaire de tous les Sports et de l'Elevage.

€ 75,00

1896. Auteur: Sport Universel Illustré. Revue hebdomadaire de tous les Sports et de l'Elevage.

€ 75,00

1898. Auteur: Sport Universel Illustré. Revue hebdomadaire de tous les Sports et de l'Elevage.

€ 75,00

1899. Auteur: Sport Universel Illustré. Revue hebdomadaire de tous les Sports et de l'Elevage.

€ 75,00

1900. Auteur: Sport Universel Illustré. Revue hebdomadaire de tous les Sports et de l'Elevage.

€ 75,00

1901. Auteur: Sport Universel Illustré. Revue hebdomadaire de tous les Sports et de l'Elevage.

€ 75,00

1902. Auteur: Sport Universel Illustré. Revue hebdomadaire de tous les Sports et de l'Elevage.

€ 75,00

1904. Auteur: Sport Universel Illustré. Revue hebdomadaire de tous les Sports et de l'Elevage.

€ 75,00

1903. Auteur: Sport Universel Illustré. Revue hebdomadaire de tous les Sports et de l'Elevage.

€ 75,00

1906. Auteur: Sport Universel Illustré. Revue hebdomadaire de tous les Sports et de l'Elevage.

€ 75,00

1907. Auteur: Sport Universel Illustré. Revue hebdomadaire de tous les Sports et de l'Elevage.

€ 75,00

1908. Auteur: Sport Universel Illustré. Revue hebdomadaire de tous les Sports et de l'Elevage.

€ 75,00

1840. Auteur: Utrechtsche Volksalmanak.

€ 20,00

1843. Auteur: Utrechtsche Volksalmanak.

€ 35,00

1844. Auteur: Utrechtsche Volksalmanak.

€ 30,00

1845. Auteur: Utrechtsche Volksalmanak.

€ 25,00

1847. Auteur: Utrechtsche Volksalmanak.

€ 15,00

1849. Auteur: Utrechtsche Volksalmanak.

€ 20,00

1850 Auteur: Utrechtsche Volksalmanak.

€ 15,00

1852. Auteur: Utrechtsche Volksalmanak.

€ 15,00

1854. Auteur: Utrechtsche Volksalmanak.

€ 30,00

1856 Auteur: Utrechtsche Volksalmanak.

€ 30,00

1861. Auteur: Utrechtsche Volksalmanak.

€ 20,00

1854. Auteur: Geldersche volks-almanak voor het jaar

€ 30,00

1864. Auteur: Geldersche volks-almanak voor het jaar

€ 15,00

1868. Auteur: Geldersche volks-almanak voor het jaar

€ 15,00

1885. Auteur: Geldersche volks-almanak voor het jaar

€ 15,00

1898. Auteur: Geldersche volks-almanak voor het jaar

€ 20,00

1895. Auteur: Geldersche volks-almanak voor het jaar

€ 30,00

1892. Auteur: Geldersche volks-almanak voor het jaar

€ 20,00

1889. Auteur: Geldersche volks-almanak voor het jaar

€ 20,00

1886. Auteur: Geldersche volks-almanak voor het jaar

€ 15,00

1887 Auteur: Geldersche volks-almanak voor het jaar

€ 20,00

1903. Auteur: Geldersche volks-almanak voor het jaar

€ 30,00

1902. Auteur: Geldersche volks-almanak voor het jaar

€ 15,00

2008. Auteur: Architect,De. Werk van Nederlandse architecten. Creative works of Dutch architects.

€ 12,50

1986. Auteur: Alte Uhren und moderne Zeitmesung.

€ 25,00

1850. Auteur: Aglaja [Maandboekje voor Dames Handwerken].

€ 100,00

1951-53. Auteur: World Railways.

€ 25,00

1946. Auteur: Annuaire France-Textile.

€ 75,00

1980. Auteur: Lloyd's Register of Yachts.

€ 35,00

1998. Auteur: Année du Cyclisme.

€ 25,00